TRENDING TODAY
The world's largest crypto exchange Binance's decision to move away from BUSD and TUSD stablecoins due to regulatory hurdles has sparked positive sentiment from traders. Tether (USDT) market share on Binance is again increasing and hints at the possible start of Bitcoin and crypto market rally, according to Kaiko data.
USDT Gains, TrueUSD Loses Trading Volume Share On Binance
TrueUSD (TUSD) market share on crypto exchange Binance has tumbled from more than 30% to just 5.6%, according to digital assets data provider Kaiko. The daily trading volume share of TUSD stablecoin has even fallen below BUSD market share, which Binance seeks to end support in early 2024.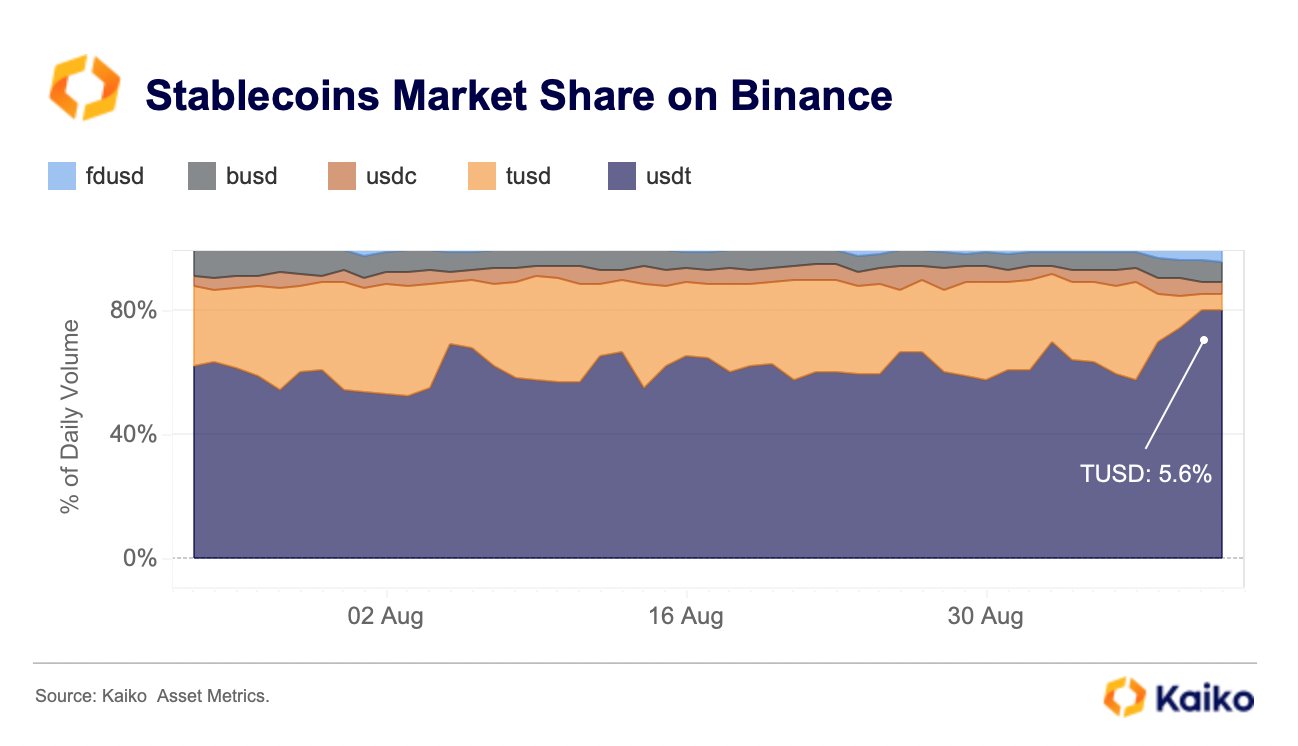 Meanwhile, USDT and FDUSD trading volumes on Binance have increased significantly, with USDT market share reaching 80%. FDUSD market share also increased after Binance announced zero-free Bitcoin and Ethereum trading with FDUSD stablecoin.
CoinGape Media accurately predicted a crypto market selloff in September as Binance decided to make changes to its zero-fee Bitcoin trading for BTC/TUSD spot and margin trading pair. Traders have exited TUSD as they have to pay a taker fee, which is no longer free.
How USDT Trading Volume On Binance Is Good For Crypto Market?
Binance apparently ending its zero-fee Bitcoin trading program for TUSD, reducing its support for TrueUSD (TUSD) stablecoin amid several issues. Experts have highlighted several red flags with TUSD, causing a stir in the crypto market.
Recommended Articles
A jump in USDT trading volume will prevent unnecessary risks, bringing back the lost trading volume on Binance. It will help bring some upside momentum in the crypto market and resolved liquidity issues.
Analysts are already positive on the start of a bullish cycle as Bitcoin price holds above $26,000.
The #Bitcoin price might be ready to start the bull cycle.

It holds above the 200-Week EMA, and it should hold above that level, and it's the best period of the cycle to accumulate your altcoins. These months.

Why?

Read more about it here:https://t.co/qbu8gWIRNf pic.twitter.com/KBGBv1Ok6X

— Michaël van de Poppe (@CryptoMichNL) September 15, 2023
Also Read:
Varinder has 10 years of experience in the Fintech sector, with over 5 years dedicated to blockchain, crypto, and Web3 developments. Being a technology enthusiast and analytical thinker, he has shared his knowledge of disruptive technologies in over 5000+ news, articles, and papers. With CoinGape Media, Varinder believes in the huge potential of these innovative future technologies. He is currently covering all the latest updates and developments in the crypto industry.
The presented content may include the personal opinion of the author and is subject to market condition. Do your market research before investing in cryptocurrencies. The author or the publication does not hold any responsibility for your personal financial loss.