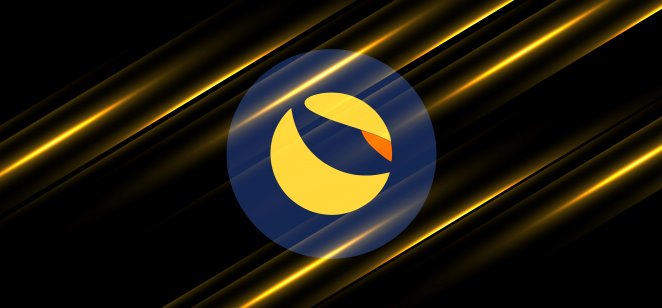 After weeks of consolidation and sideways trading, the global cryptocurrency market has finally gained some steam. The market capitalisation crossed the $1trn mark, its highest level since early September, according to CoinMarketCap.
Similarly, Terra (LUNA2/USD), a public blockchain protocol that emerged from the Terra blockchain hard fork, reached a 30-day high of $3.08 on 12 October, according to data from CoinMarketCap. However, the token price declined to $2.23 on 21 October amid heavy sell-offs and shaky investor confidence.
As of 27 October, LUNA2/USD was trading at $2.44, down nearly 88% from its all-time high of $19.54, achieved on 28 May 2022.
LUNA2/USD Live Price Chart
Will LUNA2 recover from the LUNA-UST collapse, or will it eventually succumb to mounting global and financial concerns?  
This article will look at the most recent events and other variables impacting LUNA2/USD forecasts.
What is LUNA2 and how does it work?
The downfall of the TerraUSD stablecoin and its sister coin LUNA, which had collapsed in value earlier in May, sent the cryptocurrency market into a tailspin.
Cryptocurrency price fluctuations are nothing new. However, since TerraUSD is a so-called stablecoin – a crypto asset specifically designed to maintain a constant value – the sudden drop in its price startled investors.
The algorithmic stablecoin UST, built on top of the Terra protocol, was a driving factor behind the whole ecosystem. UST lost its peg on May 9 and dropped to an all-time low of $0.006218 on June 18, 99.9% below its targeted value of $1.
The concept was that if the UST were valued above $1, the same amount of LUNA would be burnt, resulting in additional UST being issued, making it less valuable. If the price of UST fell below $1, they were exchanged for LUNA, making UST more valuable.
As a result, burning the LUNA coin was critical to this dynamic since it incentivised users by providing LUNA value and, in theory, UST stability.
However, since the collapse, LUNA and UST have been in a downward spiral, plummeting to all-time lows and being delisted from cryptocurrency exchanges.
Network founder Do Kwon – now wanted by South Korean prosecutors – designed a strategy to revive the Terra ecosystem, and the blockchain experienced a hard fork with establishing the Luna 2.0 network. The previous LUNA token was renamed Terra Classic (LUNC), and a new LUNA token was created on the new chain.
The new LUNA chain will continue without its algorithmic stablecoin UST, with hundreds of developers working on various decentralised apps (dApps) to safeguard the Terra protocol.
With so many individuals suffering financial losses due to the crisis, TerraLabs decided that a new blockchain and cryptocurrency would be the best method to repay investors.
Previous holders and dApp developers received the new LUNA token as an airdrop. Terra Foundation Labs' wallet was removed during the airdrop event, making Terra a completely community-owned chain.
At Genesis, Pre-Attack users having less than 10k LUNA in their wallets, including staking derivatives, received 30% of the LUNA airdrop right away.
Furthermore, vested LUNA given during the airdrop will be staked to Terra validators automatically. Users can switch delegators and receive staking rewards on their vested LUNA, but there is a six-month cliff.
What is your sentiment on LUNA2/USD?
Vote to see Traders sentiment!
LUNA2/USD price analysis
Launched in May 2022 after the hard fork, LUNA2 has suffered owing to the turbulent global climate and volatile cryptocurrency market. 
According to historical price data from CoinMarketCap, LUNA2 began trading at $18.98 on 28 May and peaked at $19.54 on the same day. However, due to significant dumping, the token price fell to $3.63, representing an intraday decrease of more than 81%.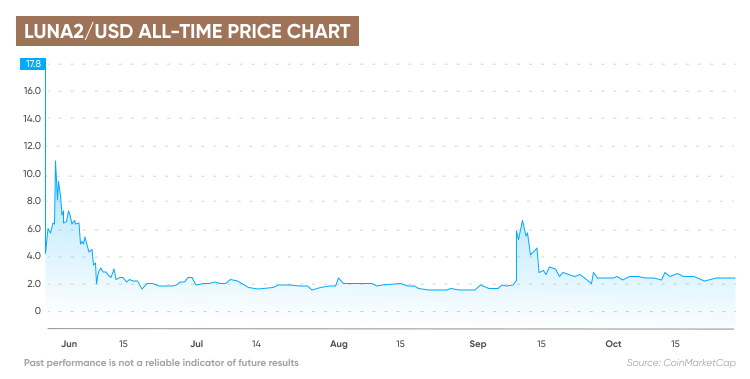 The price of LUNA2 hit $10.72 on 31 May after recovering over the subsequent days. However, the price could not be sustained, and LUNA2 fell to $2.55 on 9 June and further bottomed at $1.78 on 19 June.
Between June and August, the price of LUNA2 fluctuated between $1.80 and $2.50. Nonetheless, bearishness caused the LUNA2 token price to drop to a record low of $1.53 on 29 August.
The coin's price rebounded and hit $6.59 on 10 September after reaching an historic low. The price was unable to hold, and on 26 September, LUNA2 fell to $2.04.
Since then, the price movement has been flat, and on 12 October, LUNA2 achieved its 30-day high of $3.08. As of 28 October, LUNA2 was trading at $2.44, down nearly 21% from its 30-day high, with a market capitalisation of $304m.
LUNA2 news and price drivers
Late in October, Terra developers introduced a fresh plan to revitalise the once-powerful network. The proposal is titled "Terra Expedition" and is a reworked version of the developer mining and alignment programme launched at the Terra network's inception. Before the proposal's implementation, most LUNA tokens must vote in its favour.
In the initial proposal laid out in May 2022, about 10% of the entire supply of LUNA, or 100 million LUNA, would be distributed to the ecosystem, with 80% of this amount devoted to developer mining incentives.
However, the Terra team indicated that there are just a few ventures with total value locked (TVL) on the protocol and that this lack of competition would not result in the equitable allocation of mining funds.
According to the current plan, developer mining payouts would drop from around 80 million LUNA to 20 million LUNA. Moreover, 50 million LUNA would be transferred as liquidity mining incentives to encourage the development of decentralised exchanges (DEXs) inside the Terra ecosystem.
Another 20 million LUNA would be allocated as grants to developers, with a maximum award of 125,000 LUNA per project each year.
Five million LUNA will be distributed to users as an incentive for traction. These include incentive prizes to bridge users, minted non-fungible tokens (NFTs) and dApps. On blockchains, bridges are used to move tokens across networks.
According to the program's creators, it will run for four years. After that, an elected committee will manage the initiative from the Terra community, which will undergo a 12-month assessment.
According to the Terra Ecosystem Q3 2022 Quarterly Report published on 25 October, the circulating supply of LUNA is 166,12 million. The proportion of staked tokens, which account for 50% of the entire supply, is anticipated to continue climbing in Q4/2022.
In addition, the overall number of visits to the Terra website climbed by 101.6% to 2.1 million in September. This was an increase from July and August.
LUNA2/USD forecast: Targets for 2022, 2025 and 2030
According to the LUNA2/USD prediction from CoinCodex based on technical analysis, as of 28 October, the coin price could fall by 2.49% to reach $2.36 by 2 November 2022.
The platform's 1-month forecast saw the token trading at $0.814 by 27 November.
Meanwhile, algorithm-based forecasters gave bullish long-term LUNA2 to US dollar forecasts.
According to Wallet Investor's LUNA2/USD forecast for 2022, the coin could be an "awesome" long-term investment. It expected the average price to hit $49.532 by the end of 2022, $145.504 by the end of 2025 and $160.227 by the end of 2027.
According to DigitalCoinPrice's LUNA2/USD prediction, the average price in 2022 could be $2.35, $3.87 in 2023 and $5.07 in 2024. Its LUNA2/USD forecast for 2025 suggested that the price could rise to $6.19 in 2025, $10.70 in 2029 and $13.23 in 2030.
According to PricePrediction, LUNA2 could average $2.72 in 2022 and $7.87 in 2025. Price Prediction's LUNA2/USD forecast for 2030 indicated that the coin could reach $51.47.
The bottom line
The crypto community has high aspirations for Terra, and it is a platform for the community to build more dApps.
However, investors did not welcome the first phase of LUNA2 due to negative market sentiment.
As a result, it is up to the leadership team to provide the appropriate direction to optimise the platform and take it back to its glory days.
When looking for LUNA2 to US dollar forecasts, remember that analysts' and algorithm-based expectations can be wrong. They are based on technical analysis and historical price action. Past performance is no guarantee of future results.
It's essential to conduct your own research before trading. Remember that your decision to trade depends on your expertise in the market, the spread of your portfolio and how comfortable you feel about losing money. You should never trade or invest money that you cannot afford to lose.
FAQs
Why has LUNA2/USD been dropping?

LUNA2/USD has been plunging owing to investor distrust in the project, global recession concerns, and panic in the cryptocurrency market. The decision to invest in LUNA2 should be informed by your personal circumstances, risk tolerance and investment goals. Remember that cryptocurrency markets are highly volatile. Always do your own research before making an investment decision. And never invest or trade more than you can afford to lose.
Will LUNA2/USD go up or down?

According to the LUNA2/USD prediction from several forecasting tools, including Wallet Investor, DigitalCoinPrice, and PricePrediction, the coin has the potential to go higher in the future. According to PricePrediction (as of 28 October 2022), it could hit $76.99 by 2031. Remember that analysts' forecasts can be wrong. Always do your own due diligence before making an investment decision.
When is the best time to trade LUNA2/USD?

Due to the tremendous price fluctuation, trading cryptocurrencies is a very high-risk endeavour. Like any other cryptocurrency, trading LUNA2 (LUNA)  necessitates a comprehensive grasp of its fundamentals and market sentiments. 

Your circumstances and risk tolerance determine the suitability of LUNA2 for your portfolio. Before making any trading choices, do your own research and analysis. Never trade or invest funds that you cannot afford to lose.
Is LUNA2/USD a buy, sell or hold?

According to CoinCodex's short-term LUNA2/USD forecast (as of 28 October), the market sentiment for LUNA2 was bearish, giving a 'sell' signal.

Remember that analysts and algorithm-based forecast platforms can be wrong in their predictions. Always do your own research. And never invest or trade more than you can afford to lose.
Related reading