First major exchange to contribute market data on Pyth Network

Move comes as Cboe builds out crypto business with partners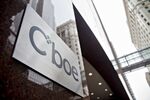 Cboe Global Markets Inc. is making some real-time market data freely available over blockchain, as the exchange operator makes its entry into decentralized finance.
The Chicago-based firm is joining the Pyth Network, the Jump Trading Group-backed decentralized publisher of crypto and other market data, as a contributor. It will provide data of 10 equities starting in the fourth quarter.