Lido protocol showed significant growth in TVL and APR.
Despite improvements, concerns about sustainability remained.
The Lido [LDO] protocol made massive improvements in its performance over the last few months. According to Lido's tweet on 17 January, the protocol observed growth in areas such as Total Value Locked (TVL) and Annual Percentage Rate (APR). This growth in performance indicated the increasing popularity and adoption of the Lido protocol among the crypto community.
📈 Lido Analytics: Jan 09-16, 2023

TLDR:
– Lido TVL is growing due to increase both in native tokens prices and Lido staking deposits.
– Lido protocol APR on Ethereum reached 5.6% (7d moving average).
– stETH/ETH rate hits 0.9933.
– Number of unique stETH holders crossed 150k 🎉 pic.twitter.com/X2TpgjQVZi

— Lido (@LidoFinance) January 16, 2023
---
Is your portfolio green? Check out the Lido Profit Calculator
---
Lido leads the way
A key area of growth for the Lido protocol was its TVL, which grew due to an increase in both the price of the native LDO tokens and staking deposits. Over the past seven days, its TVL grew by 22.03%, suggesting that more users were participating in the Lido protocol and locking up their assets to earn rewards.
Lido protocol's APR also increased from 5.2% to 5.6% in the last seven days. This growing APR, coupled with the growing TVL, suggested that Lido was becoming more attractive to users as it offered higher returns on their staked assets. The APR increase may be due to the growth in the number of stakers and liquidity providers in the ecosystem.
Another area of growth for Lido has been the number of staked ETH [stETH] holders on various protocols. This was an indication of more users taking part in the protocol and staking their Ethereum [ETH] for rewards.
The number of unique stETH holders grew by 3.11% in the last seven days and stood at 154,488 at press time.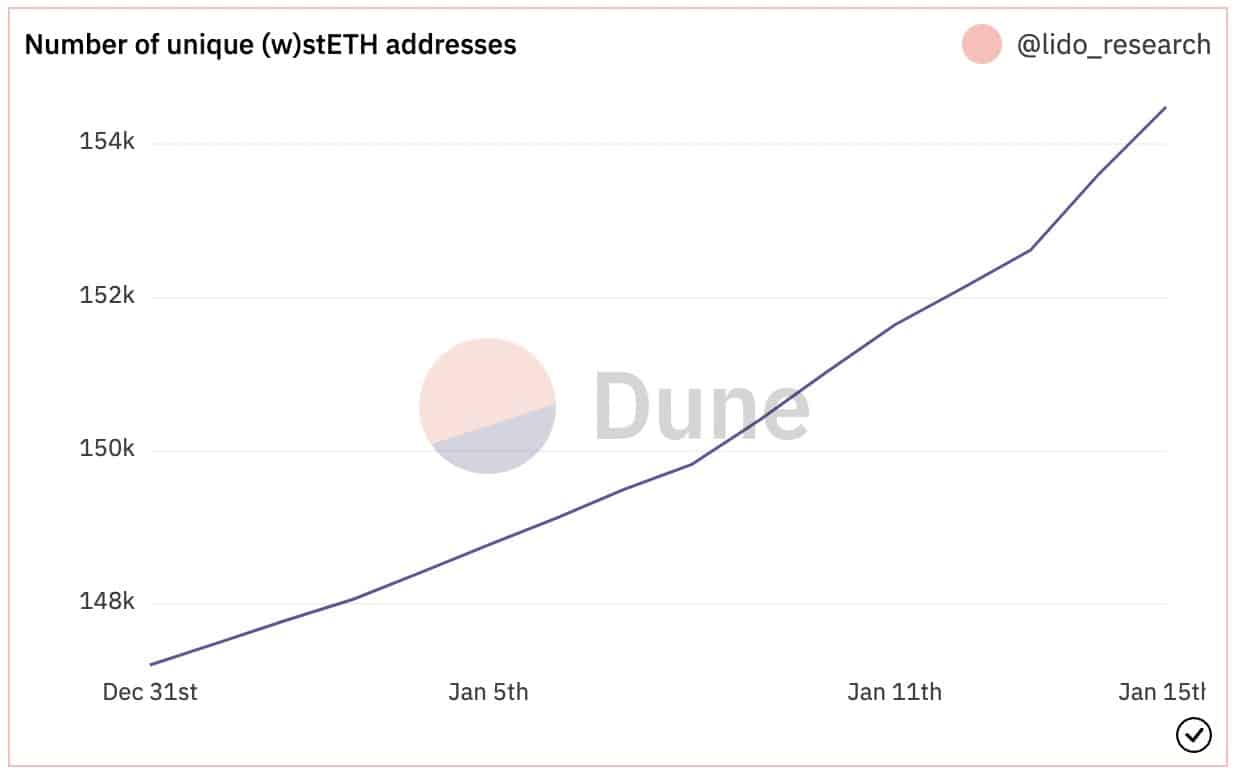 These developments also translated into growing revenue for Lido, which grew by 23.12% in the last week.
Whales swim away
Despite all these improvements, there were some factors that suggested that the current state of Lido may not be sustainable in the long term. One such factor was the decreasing interest from whale holders in the LDO token.
According to Santiment's data, the percentage of LDO being held by large addresses declined. This suggested that large holders may be losing interest in the token and could potentially be selling their positions.
---
Realistic or not, here's LDO's market cap in BTC's terms
---
Network growth also declined during this period, suggesting that new users were not interested in the LDO token at the time of writing.
However, it is important to note that the velocity of LDO tokens increased during this period, suggesting that the frequency with which LDO was being exchanged amongst addresses spiked. The growth in velocity of the token could demonstrate a positive outlook for LDO in the short term.
It remains to be seen how these factors affect LDO. At press time, the price of the token was $2.10, having increased by 4.46% in the last 24 hours, according to CoinMarketCap.