Data from cryptocurrency analytics platform IntoTheBlock shows that retail investors are now holding more Bitcoin (BTC) than ever before.
The intelligence firm says that the amount of Bitcoin held by retail investors, or entities with a balance between 0.1 and 1 BTC is currently at an all-time high. 
"All-time high – the aggregate balance held by addresses with 0.1 to 1 BTC reached a record of over 780,000 Bitcoin. The group holding between $4,000 to $40,000 roughly worth of Bitcoin was the fastest grower over the past month."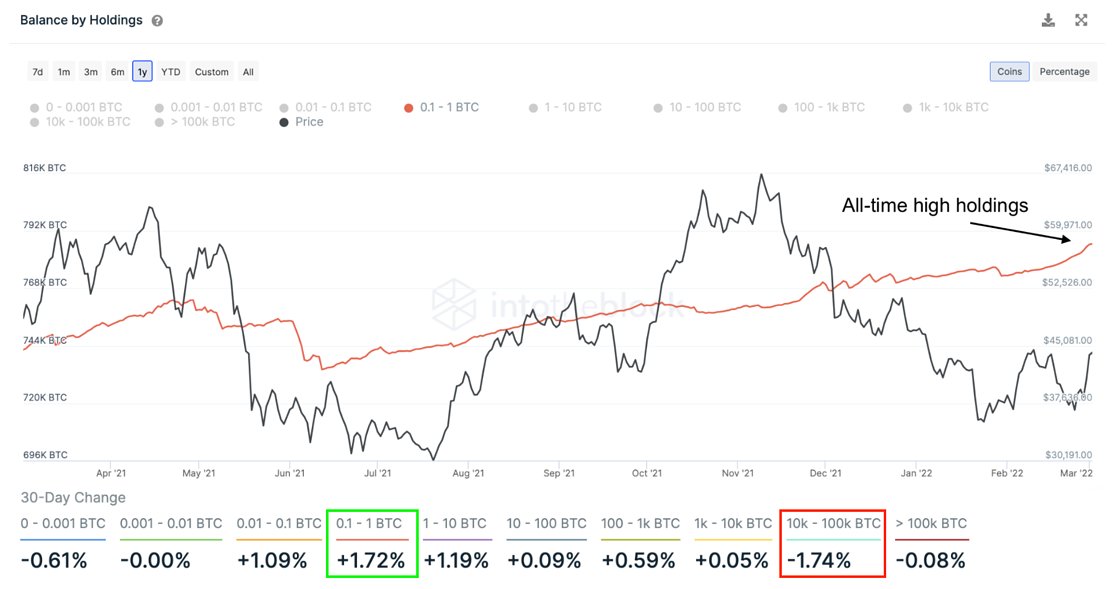 With Bitcoin currently exchanging hands at $38,126, the entire Bitcoin trove held by retail investors is worth over $29.73 billion.
According to IntoTheBlock, crypto investors with 0.1 to 1 BTC increased their holdings by 1.72% in the past month. Meanwhile, the more affluent whales with $10,000 to $100,000 BTC unloaded 1.74% of their Bitcoin stacks.
The intelligence company also says that it is seeing signs of renewed interest from retail investors. 
"Retail interest in BTC is returning to the market.
The number of traders – addresses holding <30 days, are rapidly increasing in correlation with the price appreciation of #Bitcoin.