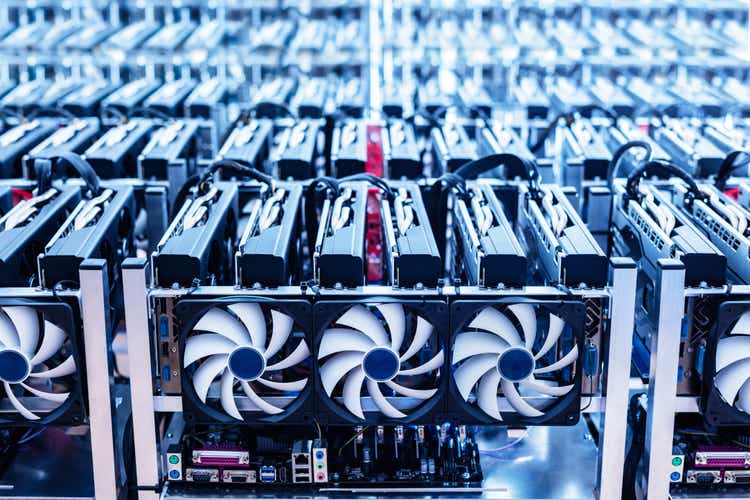 Marathon Digital Holdings (NASDAQ:MARA) is my favorite Bitcoin (BTC-USD) mining stock but things aren't looking good as crypto mining stocks continue to get destroyed during the current bear market.
It's hard to believe that MARA shares once traded as high as $80 just a little over a year ago. Things have changed drastically now as crypto hype and euphoria has vanished along with quick and easy crypto trading gains.
MARA stock trades currently around $4 per share, which is down nearly 90% over the past 52 weeks.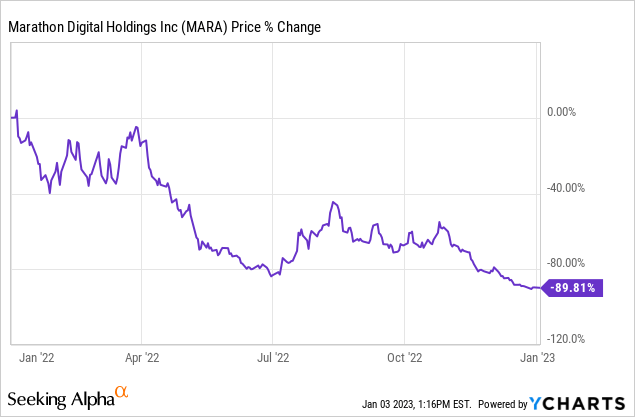 I'm absolutely shocked at how low MARA shares have fallen, considering I haven't sold a single share since first buying MARA stock in 2021.
Marathon Digital Business Update
In Marathon's latest November 2022 update, the company produced 472 BTC and increased its total Bitcoin holdings to 11,757.
As of December 1st, Marathon Digital has deployed 69,000 active miners producing 7.0 EH/s. This is a remarkable feat considering the sheer amount of bankruptcies around the crypto industry.
Marathon has not only retained its Bitcoin stash but installed a brand new 14,000 miners in its Garden City, Texas location to continue scaling operations.
The company managed to avoid growing too fast and taking on too much debt to avoid an unfortunate bankruptcy situation. However, that's exactly what happened to Core Scientific and caused them to file for Chapter 11 bankruptcy.
Core Scientific Bankruptcy Makes Marathon Digital The Clear Leader
One of Marathon Digital's competitors, Core Scientific, filed for Chapter 11 bankruptcy due to the inability to pay its debts. Core Scientific used a dual mining strategy of both self-hosted and third party miners to become the largest Bitcoin mining company in North America.
Unfortunately, the company took on too much debt and responsibility and was forced to liquidate its entire Bitcoin stash to cover its electricity costs and mining costs.
BlackRock bailed out Core Scientific with a $17 million loan but it won't fix Core Scientific unprofitable business model. On the other hand, Marathon Digital focuses on slow and steady growth while maintaining 100% of its mined Bitcoin as BTC reserves.
This shows that Marathon Digital is focused on the long term and understands that Bitcoin's true value is not dependent on current market prices.
While many crypto haters talk about the current bear market, I want to point out a key inflection point in the crypto markets surrounding Bitcoin's upcoming halving cycle in 2024.
Bitcoin Could Rebound After Reaching Block #770,000
In one of my previous Bitcoin articles here on Seeking Alpha, I mentioned that Bitcoin will enter the 3rd stage of its current halving cycle sometime in January 2023. This is when Bitcoin has historically bottomed and started pumping higher leading up to the next halving cycle.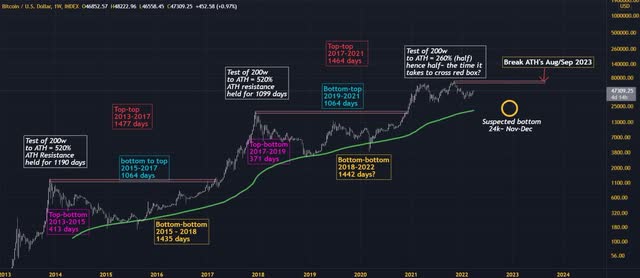 Bitcoin's halving cycle cuts the amount of mineable Bitcoin in half every 4 years to make it more valuable and scarce.
If history repeats itself then Bitcoin's price should bottom in January 2023 and start moving upwards throughout the rest of the year.
Crypto mining stocks such as MARA trade alongside Bitcoin prices so this could be a good time to buy MARA stock when nobody else wants it.
Risk Factors
Marathon Digital has a ton of risk factors that could force the company to liquidate its Bitcoin stash or file for bankruptcy if the crypto winter continues further into the future.
My biggest fear is that Bitcoin doesn't follow the historical 3rd stage of its current halving cycle and continues to drop in price. Marathon Digital must continue spending cash on electricity and mining costs to keep the company afloat.
The company only had $61.7 million in cash on hand as of November 31st, 2022 and I wonder if Marathon Digital will need to raise more cash through a dilutive stock offering or borrow more cash to stay in business.
Marathon Digital's debt is around $780 and the company is completely overleveraged in my opinion. It maintains a scary debt to equity ratio that could cause some future problems for the company. If Marathon Digital starts selling off its Bitcoin, then MARA shares will probably nosedive and head towards $1 in the short term.
A prolonged crypto bear market in 2023 could send MARA stock even lower and that would really create a lot of unrealized losses for Marathon Digital shareholders.
What's Next for MARA Stock?
I haven't sold any MARA shares and will continue to add to my position when there is fear in the markets.
MARA stock trades at an attractive P/S ratio of around 2, which is far below its Price to Sales ratio since the most recent crypto bull run.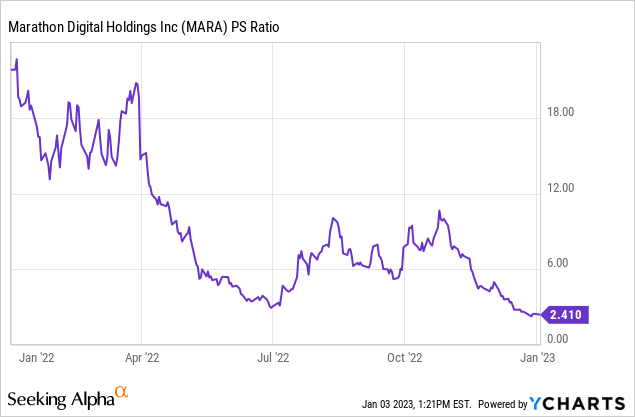 From a fundamental standpoint, I think it's a good time to buy as many shares as possible while others are fearful. Marathon still HODLs all of its BTC and should survive the crypto winter to reap the benefits as we approach the next Bitcoin halving.
This article was written by

Investor Trip is a global investment community that focuses on hypergrowth assets like growth stocks and cryptocurrency. Our investment strategy is to identify sectors with massive growth potential then pick the biggest & best companies that will become future winners. We discuss both US & international stocks as well as high performing assets such as Bitcoin. Follow us to receive notifications whenever a new article is published.
Disclosure: I/we have a beneficial long position in the shares of MARA either through stock ownership, options, or other derivatives. I wrote this article myself, and it expresses my own opinions. I am not receiving compensation for it (other than from Seeking Alpha). I have no business relationship with any company whose stock is mentioned in this article.